New study: satcoms for the rail industry
The feasibility of using satellite communications for rail communications is the subject of a new study prepared for the European Railway Agency by INDRA and ALG.
To obtain a clear idea of capabilities available for rail applications, the research team analysed various scenarios based on the radio frequencies, orbital solutions, and waveforms most commonly available.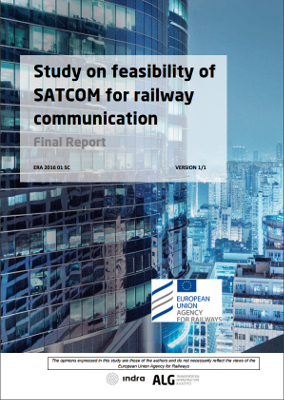 Given the timeframe for replacing the current GSM-R technology, which is expected to be obsolete by 2030, the main conclusion of the study is that if satcom is considered as the only mean of communications, there is currently no existing or planned system fully compliant with the criteria currently identified. This is primarily because the existing GSM-R voice requirements cannot be supported by any of the satcom solutions currently available.
However, when voice is left aside and only safety data applications (i.e. ETCS) are considered, the authors conclude that satcom becomes a viable and convenient option. All satcom solutions analysed are compliant with a multi-technology criterion, meaning that all of them can be integrated within Future Railway Mobile Communication System (FRMCS) implementations based on a multi-link scenario. Satellite-enabled solutions would support the use of ERTMS for those rail lines which are not equipped with an automatic train protection and management system due to the substantial investments required for trackside-based systems.
The study also identifies long-term potential solutions, such as GEO/L, IRIS FOC, GEO/S, and GEO/C, that could one day fulfil the full set of criteria, provided that they are complemented by terrestrial technology in locations where there is inadequate satellite coverage, such as in train stations, urban areas and tunnels.
"This study provides a valuable roadmap for ESA and the European space industry," says ESA's Michele Castorina. "It gives us a very clear sense of where our developmental priorities should lie in order to better address the needs of the rail industry."
DOWNLOAD
The study can be downloaded using the following direct link:
Save
Save