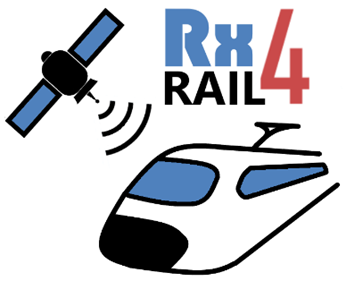 | Programme | Activity | Status | Thematic areas |
| --- | --- | --- | --- |
| GSTP Element 1 | General | Ongoing | Signalling |
Rx4Rail Project aims to design and develop a GNSS Receiver Chain Technology for Future Railways, by achieving three main objectives:
Consolidation of the System Requirements and GNSS positioning performance requirements to support target ETCS functions, by providing the guidelines to the GNSS Receiver Chain and Integrity Concepts development in terms of Performance requirements allocated to GNSS such as accuracy, integrity, continuity of service, and availability.
Design and Development of the GNSS Receiver Chain Technology, leading to the implementation of a dual frequency (L1/L5) multi constellation (Galileo/ GPS) GNSS Receiver, conceived with modularity, configurability, and scalability, and based on modules that can be integrated selectively, depending on the user needs. The receiver is fully configurable, at all stages of the signal processing chain, and the design is fully parametric, and Interfaces for user defined plugins for Feared Events barriers are provided.
Definition and Implementation of Integrity concepts suitable for evolutionary ETCS, by integrating in the GNSS Receiver chain new Integrity algorithms for improving the current ETCS performance.
The receiver platform developed within the project is suitable for the integration in the new GNSS-based ERTMS/ETCS Reference Architecture with Virtual Balise concept defined within the previous European R&D Projects.
Last updated date: 23 February 2023