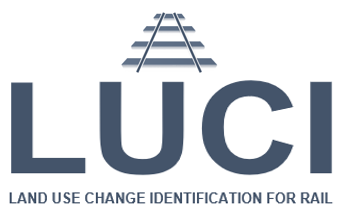 | Programme | Activity | Status | Thematic areas |
| --- | --- | --- | --- |
| ARTES Business Applications | Demo Project | Ongoing | Railway Infrastructure monitoring |
Rail engineers and trackside managers are faced with an ever changing landscape around the rail network. Small to large scale changes in the landscape adjacent to the network can have a large and potential dangerous effect on the railway and its users. LUCI's main objective is to provide adjacent land use change identification over a demonstration part of the UK rail network. By utilising remotely sensed Earth Observation imagery and machine learning models, the project will deliver a change map of the land adjacent to the rail network. The solution delivers change alerts and type of change information to allow users to assess the impact of the change. Delivered via an API (application programming interface), users can utilise and imbed the solution within their existing systems to add value and assess all of their data in one place.
See project page details:
LUCI
Last updated date: 24 February 2023