EMUSER - ENHANCED MULTI-SENSOR DATA HANDLER FOR RAILWAYS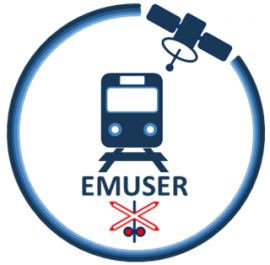 | Programme | Activity | Status | Thematic areas |
| --- | --- | --- | --- |
| ARTES Integrated Applications Promotion | Feasibility Study | Ongoing | Signalling |
USERS AND THEIR NEEDS
The sector where the EMUSER offering is positioned is the provision of obstacle detection and signalling products and services for railway level crossings. The sector is worldwide, determined by the more than 600 thousand level crossings in the world, which are spread out among all major geographical locations in all continents.
Within this global sector, the EU market and the rest of the world are characterized by different constraints and factors influencing growth rates.
In the EU market one of the principal drivers for Rail Infrastructure Managers' investment is the need to adhere to the safety standards and demonstrate compliance by means of certification. Securing level crossings in the EU is a growing trend as the European regulations require to increase the level of safety in the rail transport and level crossings constitute a significant safety concern.
In contrast, markets in the rest of the world are more lightly regulated but dominated by economic concerns. Poor existing railway communication infrastructure and remote locations in vast geographic regions drive up installation and operation costs to untenable levels.
The product fulfils the main RIM's needs as:
To have a system that fulfils the highest level of safety standards SIL4.
To have a system configuration designed for high availability demand scenario in which both terrestrial and satellite communications are managed.
To have a cost-effective solution in area not covered by terrestrial communication links.
STATUS
During the first month the user and system requirements are defined. Specific analysis about satellite solutions and trade-off has been performed. Furthermore a preliminary simulation of satellite communication link performance has been assessed.
After BDR, the SW and HW node design phase will start and the satellite communication performance will be evaluated by means of simulation analysis.
Last updated date: 14 March 2018