Improving Internet access on high-speed trains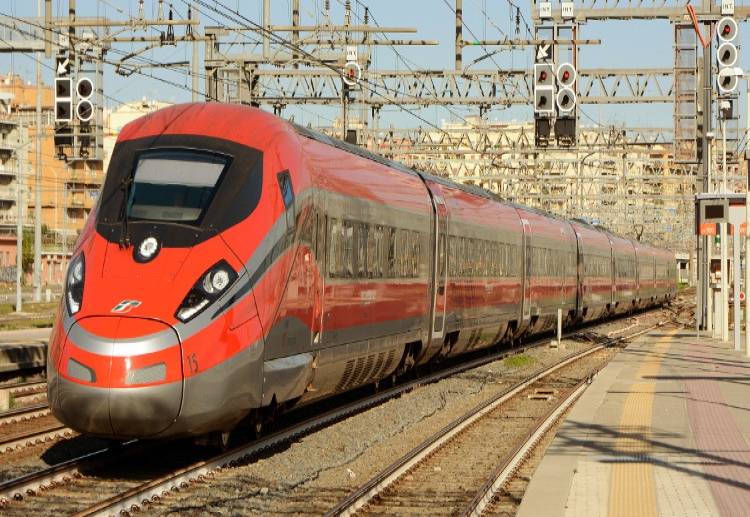 Internet access on public transport – trains, trams, buses, and ferryboats – is a service that the modern traveller has come to take for granted. As common as it may now be, WiFi on the go however does not yet quite match the home or workplace experience. With the support of ESA through the ARTES Applications programme, the Anglo-Belgian company 21net is improving the Internet experience for one particularly challenging market: high-speed trains, integrating satellite-based broadband to improve connectivity.
Building on the achievements of an earlier ARTES-supported activity, in which the company created a broadband Internet system subsequently deployed by Thalys and several other operators, 21net has developed a new system which takes advantage of the latest telecoms technologies, dynamically combining WiFi, track-side, 3G/4G cellular networks and satcoms.
The company surmounted some significant challenges. The rail environment is particularly harsh; equipment is subjected to severe shock and vibration, electro-magnetic interference, power fluctuation, not to mention in-carriage signal challenges and the high speeds of the trains, upwards of 300 km/h.
Moreover, train-to-ground communication must deal with countless obstacles, such as cuttings, tunnels, pylons, and overhead cables, which can cause loss of synchronisation, disconnections, and packet loss. For end-users, these factors if not addressed correctly can result in slow connections and momentary time-outs.
All in all, it can be a daunting challenge to provide a satisfactory online experience to one or two hundred active WiFi users on a single high-speed train.
the mobile access router
One of the most important outcomes of the recently completed ARTES activity are improvements to 21net's Mobile Access Router (MAR) system, an advanced software technology that enables optimal use of modern modems to get the highest possible bandwidth. Perhaps the most important breakthrough of the newest model of the MAR (MAR3) is its proprietary bonding system. Whereas previous generations switched back and forth between cellular and satellite links based on the reception at a given moment, the latest solution is technology-agnostic and can handle traffic from multiple sources on a per session basis. Also, when stopped in train stations, the router can also connect to local access points using WiFi bridging, so-called "track side" connections, meaning cellular and satellite connections are no longer required during stops.
The 21net connectivity technology now offers a unified system for managing all the aspects of train-based connectivity, including the all-important Quality of Service (QoS) features, which allow train operators to optimise and, if required, block certain kinds of bandwidth-heavy Internet traffic, as well as to steer traffic based on Quality of Experience (QoE).
To assess its performance, 21net's newest MAR was deployed in a pilot study on a Thalys train between October 2015 and January 2016, and the results showed a notable improvement in speed, with average throughput increasing by 50%, for both satellite and cellular. In the pilot study, just one antenna was used; with additional antennas transmission speeds could reach up to 100Mbps.
part of a pool
"In the past year we have seen a renewed interest for Internet connectivity on board of trains that include satellite communications," says Cyrille Damany, COO of 21net. "In most cases, satellite communications is considered as one among a pool of available technologies: cellular, satellite, Wi-Fi, track-side. It can improve the overall performance of the system by, for example, complementing the coverage offered by other technologies, such as cellular, or simply because it is better suited to certain types of traffic, such as broadcast TV, where the bandwidth is shared across all the fleet."
"Operators will now look at the total cost of providing the service – measured by the cost of Mb/s downloaded – made up from the cost mix of all technologies used versus the level of performance sought," he says. "Although Ka-band bandwidth prices have fallen substantially in recent years, it can still be a challenge to come up with economically viable models that use satellite-based connectivity. Prices still need to fall further."
india and scotland
One notable success for 21net has been in India, where the company and its local partner were awarded a tender in 2012 to equip three trains operated by Eastern Railways on New Delhi-Calcutta line with a solution solely based on satellite communications. It has been commercial operation since end of 2012 with great success. Indian Railways is currently considering deploying this setup on all its long-haul trains connecting Indian large cities.
21net has also been awarded a contract to supply on-board connectivity to Caledonian Sleepers, a private rail operator offering services between London and the north of Scotland. Large parts of the route do not have cellular coverage, so satellite-based broadband connectivity will be essential here.
"Satellite-based broadband for the airline and marine industries is a well-established and commercially viable technology," points out ESA's Michele Castorina, Technical Officer for the project. "With the excellent results being achieved by 21net, we are getting closer to the day when this will be the case for passenger rail as well."
Save
Save
Save
Save
Save
Save
Save
Save
Save
Save
Save
Save
Save
Save
Save
06 December 2016 -
Last updated at 01 July 2022 - 12:57